What are your thoughts regarding the Excellence Letter?
We truly care about your opinion!
> PLEASE
FOLLOW THIS LINK
TO SHARE IT WITH US.
THREE NEW SOFITEL IN ASIA PACIFIC
Sofitel is accelerating its development with the signature of three new management contracts in Wellington (New Zealand), Bali (Indonesia) and Shenyang (China) bringing the network in the Asia Pacific region to a total of 43 properties by mid-2014.
These three key locations will welcome the brand and adopt the signature Sofitel style: French Elegance with an international flavor, enhanced by the best of local culture. "These three new addresses are a perfect illustration of our precise target strategy. With our unique positioning, based on our French roots and close collaboration with famous architects and designers, today we are gaining more and more interest from investors, won over by our distinction and the successful repositioning of Sofitel in the luxury hotel business", commented Robert Gaymer-Jones, CEO of Sofitel Worldwide.
Left: Sofitel Wellington, New Zealand - Right up: Sofitel Bali Nusa Dua, Indonesia - Right down: lobby of Sofitel Shenyang Lido, China.
Thermalies: Water & Wellness in Paris
January 24-27 Thalassa sea & spa attended the 31st edition of Thermalies, France's traditional Water & Wellness Fair, in central Paris.
This popular annual event was attended by about 35 000 visitors and proved a great opportunity to plug brand products, make direct sales, promote the brand's Thalassa destinations and boost turnover. Sofitel's thalasso brand presented the 2013 Press kit to the trade press and teams had a chance to meet and talk to customers, present Thalassa programmes and get valuable feedback.
Sofitel Quiberon Diététique's head chef Patrick Jarno also led 3 popular gourmet diet cookery workshops during the show.
Left: Sofitel Quiberon Thalassa sea & spa, France - Right: Sofitel Agadir Thalassa sea & spa, Morocco
SOFITEL PARIS ARC DE TRIOMPHE:
PURE PARISIAN CHIC BY STUDIO PUTMAN
Behind a handsome Haussmanian façade, a stone's throw from the Champs Elysées, the Sofitel chain was born.
Sofitel Paris Arc de Triomphe was the first brand hotel in Paris and today it is being completely revamped by celebrated French interior designer Studio Putman. Little by little, Sofitel is unveiling its metamorphosis.
The chic and contemporary new guestrooms form an oh-so Parisian pied-à-terre and a sense of total wellbeing is created by soft soothing colors, sleek simple lines and subtle interplay of materials. The groundbreaking new layout offers modular spaces that allow guests to choose open space or intimacy, according to their mood. Refurbishment will be completed by summer 2013 when the new restaurant, set to become one of the places to be in Paris, will open its doors.

Read more in the interview of Beatrice Schopflin, GM of Sofitel Paris Arc de Triomphe, in the upcoming edition of Excellence Letter.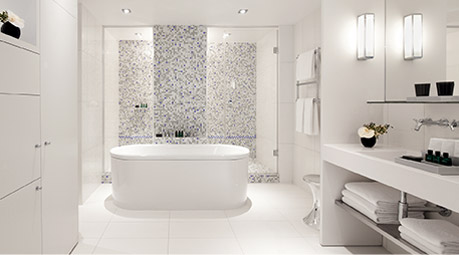 AND THE WINNNERS ARE...
Once again Sofitel celebrated Christmas with true French flair and style.
To give guests a really personal and festive welcome and introduce them to a famous French tradition, every year Sofitel organises an in-house Christmas Trophy. This is a worldwide contest to find which hotel can create the best Christmas Decorations and the finest French "Bûche de Noël" dessert. Prizes are awarded for originality, creativity and French Elegance.
This year there were two out-and-out winners who garnered an amazing 100% of the votes. Cambodia's Sofitel Angkor Phokeethra Golf & Spa won top prize for its stunning Christmas decorations with a magical tree that blended Christmas tradition and the local Khmer culture while India's Sofitel Mumbai BKC won Best "Bûche de Noël", with an irresistible dessert inspired by the henna adornments of Indian weddings.
Over 7000 fans took part in the successful Facebook contest and the popular winner was Sofitel Philippine Plaza Manila (Philippines) with more than 400 votes for its "Circle of Life" Bûche de Noël.
ART AND FOOD AT SOFITEL RIO
For the fourth year running, Sofitel Rio de Janeiro Copacabana teamed up with Alliance Française Rio in Brazil, to promote an original event that combines art and gastronomy.

The "Dive With Me!" performance was created by the pioneering duo of French artists, La Cellule (Becquemin & Sagot). Poetic and playful sculptures inspired by ocean life were the theme of the party and waiters performed an entertaining and original parade that involved delicately balancing food on the sculptures.
Monumental sculpture at Sofitel Paris Le Faubourg
A myriad of international stars and VIPs including actresses Victoria Abril, Claudia Cardinale and Anne Parillaud, French journalist Patrick Poivre d'Arvor and luxury lingerie designer Chantal Thomass turned up for the launch of sculptor Richard Orlinksi's exciting new show at Sofitel Paris Le Faubourg.
World-famous for his iconic crocodiles, this contemporary French artist uses industrial materials like resin and aluminium to create monumental, bold and brilliantly coloured art, full of lively references to Pop Art. Orlinski's masterful rendering of primeval violence tamed by aesthetics finds a novel setting at the Sofitel Paris Le Faubourg. Thanks to its creative blend of cutting edge styles and classic decor, the hotel is an ideal showcase for this bold and original work.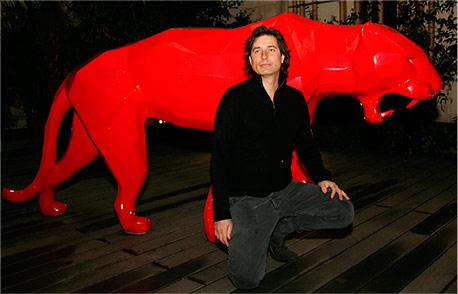 Richard Orlinksi posing in front of one of his monumental sculptures; Italian actress Claudia Cardinale with Véronique Claude, Sofitel Paris Le Faubourg General Manager and Spanish actress Victoria Abril.