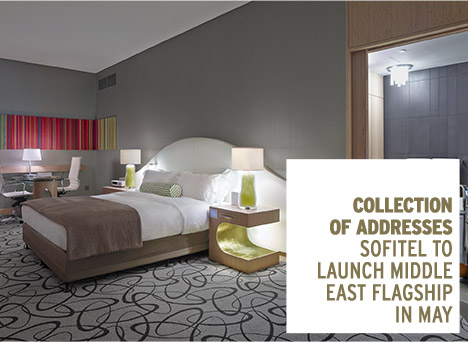 SOFITEL CONTINUES TO EXPAND ITS IMPRESSIVE PORTFOLIO IN THE MIDDLE EAST WITH THE OPENING OF ITS 7TH PROPERTY, SOFITEL DOWNTOWN DUBAI, SET FOR MAY 1ST.


This prime location stands opposite the Burj Khalifa tower, the world's tallest building, just minutes from the famous Dubai Mall shopping center, business district and Dubai International Conference center. At the crossroads of East and West, Dubai is a top destination for business travelers and the hotel's luxurious facilities include 14 meeting rooms, 600-person ballroom, plus a fully-equipped Business center and InspiredMeetings service.
Downtown Dubai's strikingly original design features chic geometric décor inspired by 20th century artist Victor Vasarely's Op Art movement. Standing 31 storeys high, it boasts 350 spacious rooms, including 76 suites, 3 restaurants serving French, Thai and world cuisine, Lobby Patisserie, 3 bars including the panoramic 31st Bar, not forgetting hotel hotspot, the Lebanese Lounge. For relaxation or fitness, guests can choose from the 60m infinity pool, So SPA or So FIT.
SOFITEL DUBAI DOWNTOWN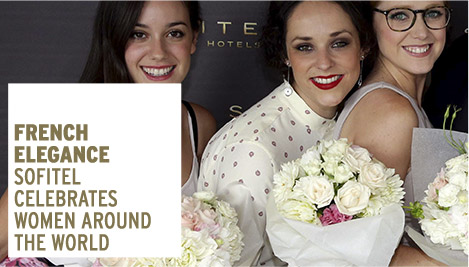 INTERNATIONAL WOMEN'S DAY, MARCH 8, IS A GLOBAL CELEBRATION OF FEMALE EMPOWERMENT, TO FURTHER EQUALITY.


To mark the occasion, Sofitel is hosting a series of unique events and promotions in Asia Pacific and Morocco.
The many wonderful initiatives include media roundtables, networking and mentoring, fashion shows and much more...
– Promotions: Sofitel has launched an indulgent "So Relaxing" package of luxury spa treatments across Asia Pacific. Sofitel and Diageo (world leader in the drinks business) are hosting a cocktail competition for the brand's female bartenders. The winning cocktail will be served in all Sofitel in the region from March 8-31st.
– Culture: Morocco's Casablanca Tour Blanche staged the second Women's Literary Award, part of Sofitel's ongoing Literary Escapes short story programme for writers.
– Empowerment and networking: Brand hotels in Cambodia, Thailand, China and India hosted dinners, cocktails and discussions with influential women to inspire female leaders, entrepreneurs and take action.
– Indulgence and style: Sofitel Fiji Resort & Spa offered a free day of relaxing spa treatments and champagne to 'unrecognised' women who work in carehomes. In Cambodia and Vietnam, brand hotels organised a 'day of Indulgence', fashion show and bridal fair.
culture

Hotel Paris Le Scribe welcomes young French stars for Cinema Award

ON MARCH 10TH, THE HOTEL SCRIBE IN PARIS WELCOMED SIX YOUNG AND TALENTED FRENCH FILM STARS, NOMINATED FOR THE ROMY SCHNEIDER AND PATRICK DAWAERE AWARDS 2014, FOR A PRESS BREAKFAST
Adèle Exarchopoulos, Léa Seydoux and Marine Vatch, and Guillaume Galienne, Reda Kateb and Pierre Niney. The awards ceremony will be held at the hotel April 7th, under the patronage of the French Minister of Culture and Communication.
Its role as ambassador of French culture is very important to Sofitel and the brand is delighted to support French cinema and talent. The Hôtel Scribe is intimately linked to history of film as it is the cradle of cinema, where the first public projection by the Lumière brothers took place on December 28th 1895.

HOTEL PARIS LE SCRIBE

design

Winner of MyBed

TM

design contest with Wallpaper* magazine

OPEN TO DESIGNERS, CREATIVES AND STUDENTS, THE AIM OF THIS INTERNATIONAL CONTEST WITH LEADING DESIGN MAGAZINE WALLPAPER* WAS TO CREATE AN IMAGINATIVE SOFITEL MYBED

TM

'UNIVERSE';

Clémentine Pautrot created a magical experience with her winning design 'Sleep Space', will be constructed and revealed in the lobby of Sofitel Munich Bayerpost on April 4th. Photos of her project will appear in a special section of Wallpaper* magazine in June. Chosen from a group of 10 finalists, the winning entry was selected by a prestigious panel of creatives. Winner and finalists were awarded a complimentary stay in any Sofitel around the world. Their designs can be viewed on wallpaper.com.

MYBED

TM

DESIGNS ON WALLPAPER.COM
SOFITEL MYBED

TM

SOFITEL MUNICH BAYERPOST