PARIS - VIENNA - AMSTERDAM
ON NOVEMBER 27, SOFITEL TEAMS, JOURNALISTS AND ARTISTS GATHERED FOR THE UNVEILING OF THE BRAND'S LATEST ORIGINAL ART DECORATION CONCEPT:


a series of enchanting paper sculptures of animals, featuring a giant bear, reindeer, squirrels and rabbits, that illustrate three Christmas tales, imagined by "The Creative Sweatshop", the paper prodigies of the digital era. Combining the virtual with the real, their artists imagine 3D digital aesthetics and then bring them to life using paper.
Five European hotels took part in the launch of this concept, which is destined to become an international event: in France, Sofitel Paris Arc de Triomphe, Hotel Scribe Paris managed by Sofitel and Sofitel Paris Le Faubourg; in Austria, Sofitel Vienna Stephansdom; and, in the Netherlands, Sofitel Legend The Grand Amsterdam.
ART DE NOËL BY SOFITEL
SOFITEL PARIS ARC DE TRIOMPHE
HOTEL SCRIBE PARIS MANAGED BY SOFITEL
SOFITEL PARIS LE FAUBOURG
SOFITEL VIENNA STEPHANSDOM
SOFITEL LEGEND THE GRAND AMSTERDAM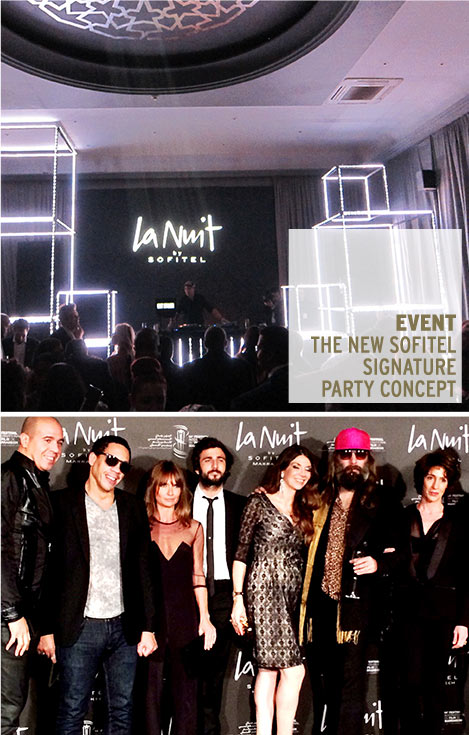 "LA NUIT BY SOFITEL" MADE ITS DEBUT LAST DECEMBER 5 AT SOFITEL MARRAKECH PALAIS IMPÉRIAL IN MOROCCO, WITH A LIVE CONCERT BY NEO-HIPPIE FRENCH SINGING DUO BRIGITTE AND FRANCO-MOROCCAN DJ CUT KILLER, IN A LUMINOUS AND INTERACTIVE STAGE SETTING.
The new party concept was discovered by 1,200 guests, including journalists, celebrities and actors such as Isabelle Huppert, Alan Rickman, Mélanie Laurent, Christian Louboutin, Sébastien Tellier, JoeyStarr or Axelle Laffont.
"We are delighted with the success of this first Nuit by Sofitel. Brigitte cast a spell over the audience while Cut Killer produced a sharp performance. Artists like them who share the cosmopolitan and audacious spirit of this concept are key to the party's success. We are already working on our next dates for 2015", commented Charlotte Thouvard, VP Communications & Partnerships for Accor Luxury & Upscale Brands.
Organized in hotels at the same time as cultural events such as art exhibitions and film or music festivals, these unique and cosmopolitan parties allow Sofitel in all corners of the globe to cultivate their very own French touch.

From left ro right: DJ Cut Killer, Sofitel VIP guests (JoeyStarr, Axelle Laffont, Cyril Paglino, Amandine de La Richardière, Sébastien Tellier and Charlotte Thouvard (VP Communications & Partnerships for Accor Luxury and Upscale Brands)


LA NUIT BY SOFITEL
SOFITEL MARRAKECH PALAIS IMPÉRIAL
SOCIAL NETWORKS
50 MAGNIFIQUE SURPRISES CAMPAIGN
DECEMBER SAW THE LAUNCH OF SOFITEL'S 50 MAGNIFIQUE SURPRISES CONTEST ON FACEBOOK.
Throughout 2014, each week, Sofitel posted one of 50 Magnifique Reasons to stay at Sofitel on the brand Facebook page to showcase the network and drive engagement worldwide. Sofitel's one million fans are now invited to pick one of these 50 reasons, explain why it is their favorite and illustrate their entry with a photo. 50 lucky winners will win a 5-night stay in one of 5 destinations out of the 120 network hotels.
Sofitel's strong social media presence makes it one of the leaders in the luxury hotel industry. The latest campaign will have exposure on the brand Facebook page, hotel pages, Tumblr and Google+. The
#SofitelAnniversary
hashtag will be widely used to draw in the larger community of Facebook users and to consolidate all posts commemorating this 50 year milestone. The campaign is also a great opportunity to launch the Sofitel Global official Instagram account (
@SofitelGlobal
). Sofitel is now present on a total of 10 social media platforms and is also living online!
SOFITEL 50TH ANNIVERSARY CONTEST
SOFITEL FACEBOOK PAGE